Fresco School Program Prerequisite
Buon Fresco Painting Foundations Explained and Illustrated.
I asked iLia why I couldnít simply sign up for his workshop at the Fresco School and learn what is needed to create a fresco during a week in class, enjoy a bit of professional networking and "fill in" with online resources? His explanation is worth repeating and reflects the many advantages of our digital world as compared to the now out-of-date limited opportunities for education.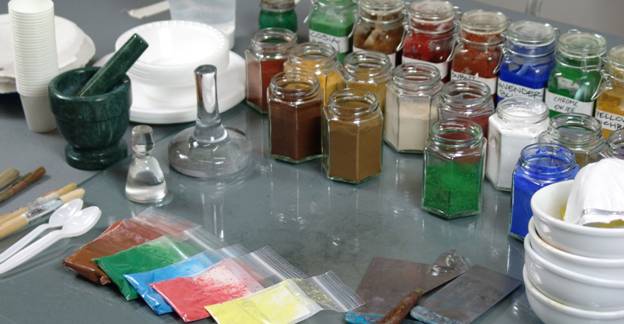 Previous to the availability of this 5 volume set of tutorials on the Foundations of Fresco Painting, a student had to come to the Fresco School in Los Angeles, pay for lodging and airfare, food, daily transportation.† No online fresco tutorials existed. Students attending the onsite workshops had to spend time learning the basics before any hands-on experience, and needed to add subsequent private or group sessions to become competent enough to fulfill a fresco commission independently. This simply wasnít practical for a freelance artist; for most of us time is money.
Fresco integrates the artistís prior media knowledge and is the technical mother of all arts. It is a complex, green, environmentally perfect media with its own properties; relating equally to art and science and style independent.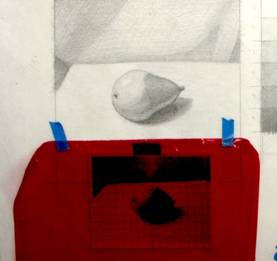 Having the technical knowledge and practice of the medium of fresco will provide an understanding all painting mediums. Itís not the same as being familiar with oil painting and learning watercolor.
Traditional apprenticeships, however, are no longer practical, nor do they exist. Todayís artist needs to be able to make a living now, not in five years.
†iLiaís use of the Renaissance method for the DVDs is not style-suggestive but the logical choice, since during that time painting became bound with understanding of the scientific principles of the reflection of light and became more technically organized. Painting stopped being only intuitive; artists learned to plan technical steps with great precision and simplicity. Weíre all familiar with the term "Renaissance Man," a combination of scientist, artist, poet, writer, historian.†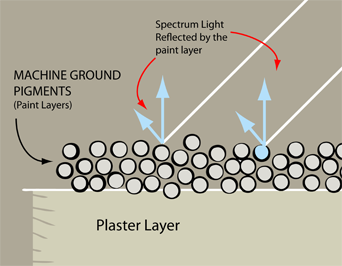 iLiaís unique real-time instructional style allows the viewer to have questions answered, reviewed until understood, and to watch the physical demonstration of each principle until itís fully internalized. There is no need to take notes or photographs. The periodic summarizing text lays out the organized methodology that led ILia to produce his thirty years of personal experience and seventeen years of teaching fresco classes into this precise, linear process within a progressive and organized format.
The immediate practical advantage for an artist is that when they come to the studio for a private or group session, they can now arrive equipped with foundational principles and begin at their particular focus and on an advanced level. Fresco is an art that depends upon nuance as much as on the scientific understanding of the physical properties of the media. The value of working with a master artist in his studio is irreplaceable, but if the artist can save money, time and effort learning well-organized principles and step into the studio fully-prepared to learn advanced techniques, the advantage of purchasing a set of DVDís as compared to several weeks or months travel, expense and studio time is obvious.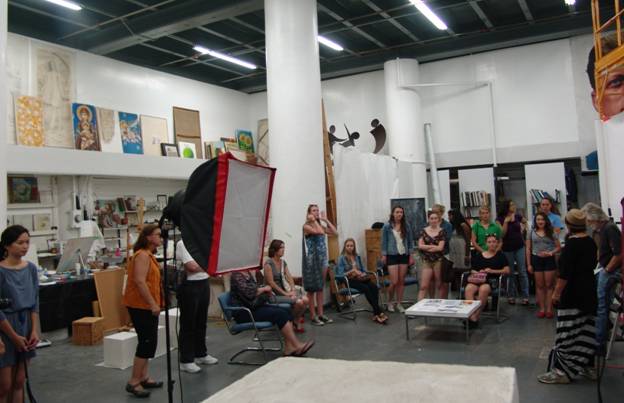 Originally iLia thought to create a single DVD as a supplement to his introductory workshop. Beginning to organize his information, he realized that he often referred to his own fifteen years of teaching notes to recall information, such as the relationship of plaster thickness relative to the complexity of the work. As iLia remarks, "We all cut corners and we all forget things we should remember. Everyone needs a tool to be able to recalibrate the sequence of technical steps of making art."
iLia was struck by †the many detailed demonstrations, lecture notes and charts necessary to impart the principles of creating an image according to the technical principles of manipulating the reflection of light. It would eventually take him five years to distill thirty years of experience into this 5 volume set of essential and easy to absorb information. †iLia emphasizes this set is an ongoing resource, the equivalent of an apprenticeship or a week long private class where the student can repeat a question or see the technique more than once.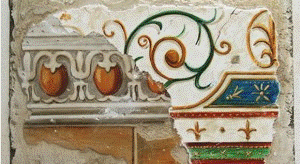 The heart of these DVDís is radically different from "How to Paint an Apple," or "How to use Oils." This set fully explains the medium and the foundational, technical principles behind creating an image on the wet plaster and frankly, any image whether representational or abstract, because the information is style independent. As such, any artist can utilize these DVDís to further their own individuality. (by S. Horodesky, student/apprentice)
CLICK HERE TO WATCH THE TRAILER
Class Prerequisite -

"Buon Fresco Foundations: DVD Tutorial Set"

It is required that you watch all available videos of this Set prior to the workshop. To purchase this DVD click here

or to read more about prerequisite click here...

Alternatively you can call your Local Library and ask them if they have a copy.

If your library does not have one, have them call Fresco School (310) 779-5079 and order a Library Special Set


The Fresco Search

Provides results from TrueFresco Art Network Database - search the whole claster of our fresco painting related websites in one place, here!
Contact
| | |
| --- | --- |
| | To contact Fresco School use Contact Form or call (310) 779-5079 10 AM - 6 PM PST |